Become a Grapepedia retailer
Pinotage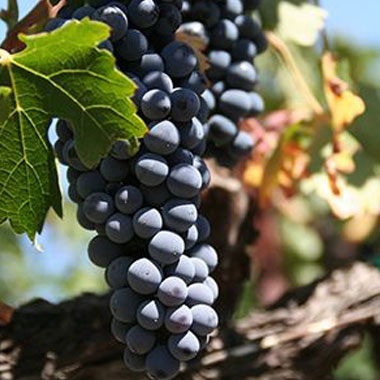 Pinotage is a dark-skinned red grape variety made by crossing between Cinsault and Pinot Noir. The name of the variety comes from Pinot Noir and Hermitage as Hermitage is a historical synonym for Cinsaut in South Africa, and it is created by Professor Abraham Isak Perold in 1924 in the region of Stellenbosch, South Africa. It is a high yielding grape, like its parent Cinsault and easy to grow, ripening early with high sugar levels.

The result wasn't what Professor Perold expected, but a very productive grape that until recently was used to make low quality wines. Only in the last 20 years, Pinotage has produced some great wine thanks to research on the grape and work in the vineyards, starting with reducing the yield and new wine making processes.

The Pinotage grape has high tannin content, which can be tamed with short maceration time and reducing the skin contact and usually produces intensely coloured, rich, concentrated wines with flavours of dark forest fruits, spice, leather and chocolate as well with great ageing potential. The varietal has suffered from a bad reputation but over the past 10-15 years it has gained international recognition. It is almost exclusively planted in South Africa with the exceptions of Israel, New Zealand and California.
Get in touch
Share with us your favorites if you haven't found them yet, help us