Become a Grapepedia retailer
Muller Thurgau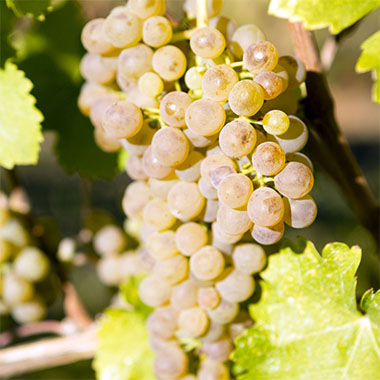 The Müller Thurgau grape variety is a cross between white grape varieties , created in 1882 by the Swiss Hermann Müller, a native of Thurgau , when working on a study for the genetic improvement of the grape. Until recently it was believed that the starting grapes were Riesling and Sylvaner , but recent DNA studies suggest that the second grape is Chasselas .
The grape variety Müller Thurgau is widely cultivated in Europe, the grape produces very good results in a cool climate especially in Germany , Switzerland and Italy , and also new world countries such as New Zealand.
The variety produces fruity, fresh and low in acidity white wines of light yellow colour with big yields and off-dry to medium-sweet taste. Usually, it has a floral aroma of elderflower, herbal notes with flavours of green apple, grapes (Muscat-like) and citrus fruits. The Müller-Thurgau grape was extremely popular during the 1980s for the production of mass-market wines like the blended Liebfraumilch.
Get in touch
Share with us your favorites if you haven't found them yet, help us