Become a Grapepedia retailer
Cabernet Sauvignon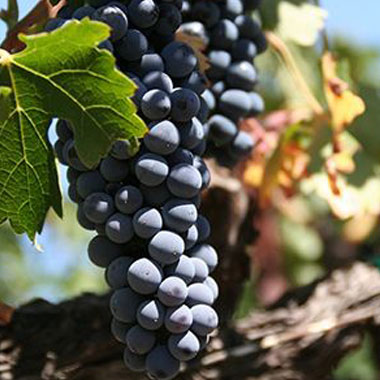 Cabernet Sauvignon is probably the most famous and planted red wine grape variety on Earth. From its origins in Bordeaux, this grape has successfully spread to almost every winegrowing country and region in the world. DNA profiling, which was carried out in California in 1997 confirmed that Cabernet Sauvignon is the product of a natural crossing between the Bordeaux grape varieties Cabernet Franc and Sauvignon Blanc.

Usually, the grape is blended with Merlot, Cabernet Franc and Petit Verdot in Bordeaux but nowadays is a key grape variety in many great New World wine regions as well, most notably Napa Valley, Coonawarra and Maipo Valley. It is a late-flowering and late-ripening variety and the grapes mature slowly. This characteristic works for or against wine quality, for example in a cold season or climate there is a risk of the grapes failing to ripen fully, while in most other conditions the steady rate of growing offers producers a wider choice of harvest dates.

Wherever it comes from, Cabernet Sauvignon always seems to demonstrate common characteristics, like deep colour, good tannin structure, moderate acidity and aromas of blackcurrant, tomato leaf, dark spices and cedarwood.
Wines made with Cabernet Sauvignon
Get in touch
Share with us your favorites if you haven't found them yet, help us